Are you worried about iPhone radiation and how it might effect your health? The iPhone is the most popular selling phone in the world. Yet, because there are so many powerful people feeding off the revenue generated by these devices, the fact that they emit large unhealthy doses of EMF radiation is largely ignored. Because there are no laws banning their sale and few people pushing for better studies and monitoring, it is hard to argue for change against the convenience created by one of the world's largest corporations. In this article, we'll cover simple tips you can do to reduce your exposure to iPhone radiation.
Because the most serious effects are occurring at a microscopic level, it may take decades before we see the full consequences of long-term exposure to the RF (Radio Frequency) radiation that they generate. 
Yet, you may remember the first time that you ever used a cellular phone and how off-putting the sensation of the radiation field was. But you've slowly grown accustomed to it and accepted it as a little annoying. 
You may even try to avoid long cellular phone calls, nowadays, by using apps with better data compression but reduced quality like WhatsApp when you can't just text your friends. Yet, you always feel this aching tiredness and slight deadness of your nerves and body that are a symptom of it absorbing radiation.
What is iPhone Radiation?
Your iPhone is constantly emitting high levels of EMF (Electric Magnetic Field) radiation in the form of RF (Radio Frequency) radiation. Imagine the high voltage that is needed to broadcast radio signals across large distances and how we are being bombarded with these energy particles when we stand too close to a radio tower. 
Scientists have associated magnetic fields and radiation, in general, with an increased risk of cancer because these energy particles destroy the DNA in our cells and can interfere with mitosis. Chemotherapy and radiation therapy are often combined to destroy cancer cells. Although the chemo drugs make cancer cells more susceptible to radiation damage, the radiation can also cause a secondary cancer to manifest as much as a decade later.
The radiation being emitted from your iPhone varies. It is at its heaviest levels when the phone is searching for a signal, when it is trying to connect, and when it is moving large data packets. 
Different mathematical theories of chaos theory are compiled to form algorithms that condense the cellphone signals, as much as possible, without sacrificing quality.
Different phone apps use different levels of compression to reduce the size of the packets. Your straight phone app from your iPhone contacts list hits you with the heaviest doses of radiation because the connection is stronger.
This may be why Americans are more annoyed than ever with each other and willing to unfriend and block people for capricious reasons. They may be in a bad mood from the subtle effect of radiation poisoning making them feel discomfort from constant checking of messages and obsessive chatters. 
Simply having your iPhone near you, whether it is off or on, will expose you to radiation. Although the levels may be lower, the accumulative effect of radiation absorption is what makes them so dangerous. Carrying an iPhone in your pocket and sleeping it with it near your head can all equate to increased tumor and cancer risks.
The BioInitiative Report and Interphone Study are the most comprehensive studies on the cancer and tumor risks that prove how dangerous cellphones really are for humans. The danger risks are concluded after the examination of tens of thousands of individual studies and found a nearly two-fold risk in developing brain tumors after a decade of daily half-hour cellphone calls.
How to Reduce Cellphone Radiation
#1: Use Apps with Smaller Packets
If you are going to use your iPhone, and you're not quite ready to become a Luddite, you should use phone call apps that use more compression like Google Voice and WhatsApp to make audio phone calls. 
#2: Turn Off Apps That Are Not in Use
Your iPhone will continue to incrementally increase its RF levels by running apps in the background when you are not using them. In order to lower the RF levels, you have to double-click the home button to bring up the compilation of open app windows. You can then swipe them up to close them, one at a time, to save battery life and reduce RF exposure.
#3: Put Your iPhone in Airplane Mode Whenever Possible
If you can't turn off your phone or hide it far away from you, you should at least put in in airplane mode to stop it from searching for a signal and updating processes. Your phone will constantly try to stay online when you have it on unless you specifically tell it to block out the RF interference with airplane mode. Airplanes require you to place your phone in airplane mode if it is not off specifically because they are afraid of the effect of RF radiation on airplane controls.
Studies have demonstrated how RF radiation could be used to steer a modern vehicle that relies on automated systems like drive-by-wire and electronic steering to create a car accident by remotely targeting it with RF signals. 
#4: Keep iPhone, iPads, and Laptops Away From Children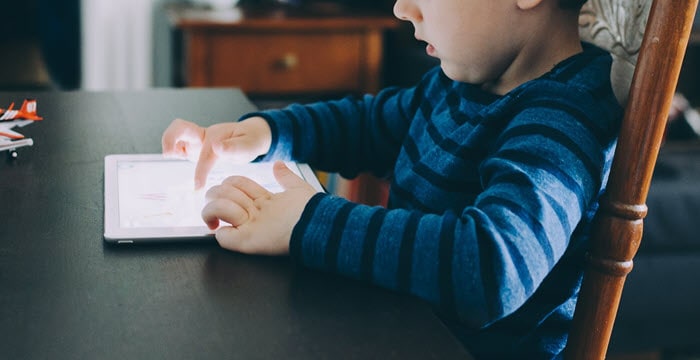 Children are more susceptible to developing brain cancers and even tumors that can strangle the auditory nerve and cause deafness. This is due to a lack of skull bone density that makes it easier for the radiation to magnify its effect on soft tissues. Don't forget that babies are born with a soft spot, and that some children never develop proper bone density in the skull even as they age. 
#5: Put Your iPhone in the Glovebox
You should not operate your iPhone in the vehicle. Although it has wonderful GPS capabilities, it is at the price of maximum radiation absorption for long hours. This is because your iPhone has to constantly scan to update the signal as your travel. In addition, your vehicle acts as a veritable Faraday Cage to bounce the radiation back and forth inside the vehicle.
#6: Take Extra Care When You Are Sick Or Tired
Because your body is more susceptible to radiation damage when your cells are already fatigued and unable to combat the exposure, it is better to avoid your iPhone altogether when you are not feeling well. This is because the RF radiation is able to penetrate the cell membrane easier and set off a cascade of destructive effects.
#7: Wait and Hit the Speakerphone Button
Not only is it bad to hold the iPhone close to your head, but it is also bad to have the phone near your head when it is connecting. When your phone is trying to connect to another caller, it is working harder. It has to send a lot of initial information to build up a strong signal to prevent the calls from cutting out.
You will notice that if you use apps that send less data like WhatsApp, the calls will cut out more frequently. You can then call the same person back using the regular iPhone phone app and get a more solid connection. Using the speakerphone to keep the phone as far away from you as possible or at least holding it away from your head when talking can both lower your exposure risks.
#8: Buy a Protective Case
If you want to ensure that your iPhone is not poisoning you with EMF radiation when you are carrying it around or making calls, buy a case that has an EMF blocking shield. This shield will only block the EMF on the front side of the phone to ensure that the signal is still strong and that you can talk as usual without being exposed to the radiation. This may be one of the most practical solutions to lower your EMF levels while still making use of the iPhone functions.
#9: Never Carry Your iPhone Against Your Body
It is simply not a good idea to carry your iPhone in your pocket or even to just have it sitting on your lap for long periods of time. The RF radiation has been associated with infertility and is harmful to your organs over time. 
You also have to consider that you are being hit with radiation particles all the time and that the accumulative effect is intensified just below the threshold of causing serious damage in most people. Yet, we all have cancer cells in us that can crop up and multiple at some point in our lives with the proper environmental factors. Your car is also emitting EF radiation. And if you own a hybrid or electric vehicle, you are getting pounded with EMF radiation and may be at the highest risk of developing cancer in your lifetime.
Conclusion
Although it is not practical to get rid of your iPhone, you should try to distance yourself from it as much as possible. Use if for bare necessities instead of gluing it to your hand as an obsession. And if you can buy a protecting case and mitigate the damage by following the other key tips above, you may be able to find a delicate balance that doesn't severely jeopardize your health.